I love, love, love being an aunt. It is one of the many special "joys" in my life. You get to have all the fun and send them home when you are done! It is like having a child of your own only when you feel like it LOL hahahaha! What terrible statements, but they are oh so true.
Here are some pictures of one of my favorite times with my favorite nieces, Ashley & Alyssa. We were at a resort a very long time ago. Ashley and I are doing the Hokey Pokey! These beautiful girls are all grown up now; but I love them just as dearly...if not more!
You put your left hand in, (other hand dear)
You put your left hand out;
You put your left hand in,
And you shake it all about.
And you turn yourself around.
That's what it's all about!
Being a Hokey Pokey Aunt really helps me....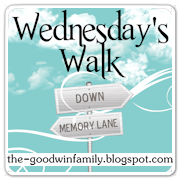 Jenilee at The Goodwin Family is hosting Wednesday's Walk.