I have been dreaming of warmer places the last few days and it got me reminiscing about our honeymoon. I you know my hubbby and me; you would not be surprised that we went to Disney World for our honeymoon....too cute!

Here is John in our rental, a blue mustang!


Yes, they were painting the castle pink for one of their celebrations.
At MGM Studios!
Our first date was seeing Beauty and The Beast at the movie theater....fitting!
So young we were and very cute....Love it.
Remembering fond memories always helps me .....Get Joy!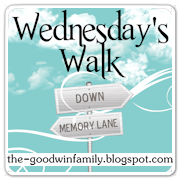 Jenilee at The Goodwin Family is hosting Wednesday's Walk.