We would grab our life jackets, run across the yard to the dock for our boat ride with our grandpa. It was one of my favorite times at their home. We always made sure he would take us out on the lake.
In Michigan, there are so many lakes and you are sure to know somebody that owns a boat. My grandparents lived on a canal that went into Otter and Sylvan Lake. My grandpa had this rowboat and an orange pontoon boat.
We loved going on rides. I remember resting my head on the edge and watch the wake that was created by the speed of the boat. I loved looking at all the various homes along the waters edge. My favorites were always the really big homes. I always wondered what important person lived in them. Sometimes, my grandpa would sit us on his lap and let us drive the boat, which was so exciting. I was always sad to come back into the canal when our ride was over. But, I am thankful for all the rides with my grandpa and the memories that I will cherish as long as I live.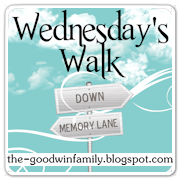 In this picture...my mom, me and my grandpa!