Have you ever had a moment with your child you could just lock into your memory forever?

I have been sick for the past two weeks. Yesterday was the breaking point; I just had to go to the doctor. After I loaded up the kids and dropped two off at the school, my 2 year old boy and I headed over to the doctor.

I laid on the bed and watched my son. He was so good. We waited in that room for at least an hour. No TV, no toys, no entertainment....just his snack and me. I had no energy, no nothing to help him as we waited. So I laid there and we sang, we copied body movements, went through the alphabet, colored on the paper napkins and he just explored the room. My favorite was when we were copying movements. He was sitting in the chair and I was sitting on the bed. I mimicked his leg movements. He loved it and laughed so much. During that hour, he didn't cry once..... I was sure that he would.

It was just a simple time together but it was just a sweet moment with my son....I just want to remember it. So......This is where my memory will go, here in my blog to never be forgotten even when I am old and gray. I guess that is the point of Wednesday's Walk! : )

I just want to thank the Lord for the simple moments with our children that bring us joy even when we are not feeling well.
Oh, my dear friend wrote about me today...so sweet! I wrote about her awhile ago
here : )
! Love ya, Jen!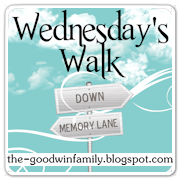 Jenilee at The Goodwin Family is hosting Wednesday's Walk.