My sister is gonna kill me; but my friend Jenilee asked if we had any unpublished photos and I immediately thought of this one. I was saving it for something...I guess this is the something.
My sister is so awesome. She is always up to trying something new...this day it was a green face mask.

And as I was writing this post my son did this with our new bag of chips....my dog was very happy. However, my oldest daughter declared it an unfortunate event.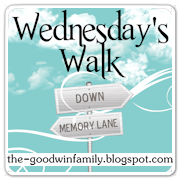 Jenilee at
The Goodwin Family
is hosting Wednesday's Walk.