As per my friend's request here are some old photos of my hubby and me. John has always been this brilliant kid. He is so amazingly smart. He has so much information in that noggin of his...it never ceases to amaze me. He says he was a good little kid, he never got in trouble.
I did alright in school....it was more of a struggle for me...especially in high school and college. I was a good kid too and shy at times. I lived for art class. It was my favorite day in elementary.
John and I went through a nerdy stage but sorry to say that I do not have any of those pictures here at our house. Boohoo!
Even way back then God was laying out the path for us...God is so cool! This reminds me to pray for my children's spouses even now as they are young.
I love him...and he loves me!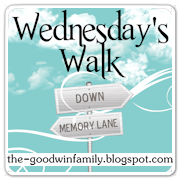 Jenilee at
The Goodwin Family
is hosting Wednesday's Walk.