I was a pretty good kid and never really got into trouble. Because of that, I don't have very many stories to tell of me as a kid. But I do have a few goodies of my childhood life and here is my favorite....it makes me laugh to this day.

I was having a sleepover with me BFF, Colette. Whenever we had friends over my mom would let us sleep in the living room on the Sofa sleeper....that was just the most fun. Sad I know, it is the little things that can entertain a kid...isn't that the truth!

So as usual Colette and I got to sleep downstairs in the living room. In the morning, while my parents were still sleeping, we played a game with the bed. We played this game a lot unbeknownst to my dear parents. We would try to fold each other up in the bed and see how far we could get without folding it all the way. I am telling you, I am laughing as I write this.

This particular morning, I was folding my dear friend Colette. I can remember it like it was yesterday. Colette was a lot taller than I was and I just couldn't hang onto the bar. It slipped through my fingers and wahboom.... she got folded all the way into the couch. There she was a big lump in the couch. I was laughing and crying all at the same time while desperately trying to pull her out; but the whole fiasco bent the stupid bar. She was trapped and I was realizing she needed air.

I can only imagine what was going on in her head. I will have to ask her some time. hahahahah

Let me tell you, I did not want to go upstairs and tell my mom. I crept up the stairs, crawled up to the side of my mom's bed and very gently tapped her to wake her. I then began to tell her what I did and she was like "YOU DID WHAT". She came downstairs and we were able to rescue my best friend.

I don't think I got in trouble, partly because it was just too funny.

So there is my walk down memory lane today! Hahahahaha!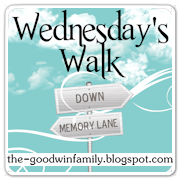 Jenilee at
The Goodwin Family
is hosting Wednesday's Walk.