10 years ago I was completely terrified and excited all at the same time. Terrified because I did not have any idea what it would be like to have a baby; yet excited because I was having a baby! It is very interesting experiencing such different emotions all at the same time and then throw some confused hormones into the mix to complicate it even more.
I had an overall good pregnancy, except for some high blood pressure and acid reflux issues. I was induced a week early because of the high blood pressure. Let's just say pitocin is from Satan himself and I would have to have it for my next to births as well : (. But just as pitocin is a tool of the Devil and epidural is gift from God to women. Too think I thought I was one of those women who could tough it out....hahahahahahahahahaha...boy I was wrong.
I was in the middle of contractions and I finally got to the place where I could have an epidural, thank goodness. There is a piece of paper that you and your spouse have to sign in order to receive this blessing. The document states that you will not hold the hospital responsible to any negative side effects of this procedure...like nerve damage...blah, blah, blah...death. No big deal to me because there comes a point in my birthing experiences where I think death would be a welcomed relief...hey, I am just saying it like it is. I signed the paper without reading it, I was a desperate woman. Then my wonderful hubby....well he thought it would be best to read the entire stinking, fine print document. I was leaning over the bed, nurses' ready, an anesthesiologist ready to inject, me glaring at my hubby and all of us wondering what in the world he was doing.
I would like to remember the next part like this...."Honey, please sign the paper! I am in a lot of pain and it would be really nice of you if you could speed things along. Thank you honey, I love you" But my dear, wonderful hubby always reminds of how it really went down. He says it went more like this.... in more like a demon voice I yelled at him, "Just sign it!!!!!" He did!
And as a choir of angels singing and birds chirping filled the room and the epidural kicked in...the rest was a breeze. I am not kidding, all child birth should be like that....pain free. I truly believe that is the way God intended it to be. An hour later on a beautiful April day, my beautiful daughter was born and our lives were never the same again.
I remember trying
to hang on to every moment. I wanted to burn it into my mind, never to be forgotten. I never knew I could love like that. I finally could begin to understand what a parent truly feels for their children. It was just a glimpse of how much my heavenly Father loved me.
She is growing up into a beautiful young lady. She keeps getting taller. I look at her and I wish I could hang on to her forever. John and I are truly blessed. She is so smart, adventurous, fearless, creative, witty and funny. She is more than I could ever have hoped for. I am million times more of a person because of her in my life. I will hang on to every minute that God allows me to have and yet I am so excited about what God is going to do with her life....it will be, no doubt, simply amazing!
I love her to the moon and back!
She helps me everyday to...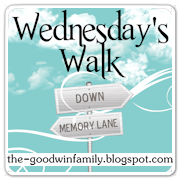 Jenilee at The Goodwin Family is hosting Wednesday's Walk.