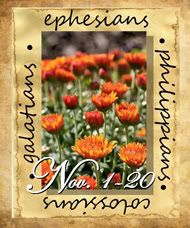 Don't forget to visit my dear friend Jenilee and her thoughts on
Colossians 1
!

Theme: Redemption fully in Christ
"In the first two chapters the apostle tells them what they must believe, and in the two last what they must do; the doctrine of faith, and the precepts of life for salvation. "-Matthew Henry
Chapter Breakdown
The apostle Paul salutes the Colossians, and blesses God for their faith, love, and hope. (1-8)
Prays for their fruitfulness in spiritual knowledge. (9-14)
Gives a glorious view of Christ. (15-23)
And sets out his own character, as the apostle of the Gentiles. (24-29)


What God Wants To Show Me Today

Ohhhhhhh, I love how in verses 15-20 Paul preaches the "Good News"! Christ is God, Living, Eternal, Powerful and Ready to Save!
Christ Is Supreme
15 Christ is the visible image of the invisible God. He existed before anything was created and is supreme over all creation
16 for through him God created everything in the heavenly realms and on earth. He made the things we can see and the things we can't see— such as thrones, kingdoms, rulers, and authorities in the unseen world. Everything was created through him and for him.
17 He existed before anything else, and he holds all creation together.
18 Christ is also the head of the church, which is his body. He is the beginning, supreme over all who rise from the dead. So he is first in everything.
19 For God in all his fullness was pleased to live in Christ,
20 and through him God reconciled everything to himself. He made peace with everything in heaven and on earth by means of Christ's blood on the cross.

Paul goes on to remind us that we were all dead in our sins; but because of Christ sacrifice we are redeemed. Our souls have been purchased through faith. When we believe, Christ's blood makes us pure so that we can have eternal life through Him. What an awesome passage to use to share the salvation message.
Paul also reminds us to stand firm and to hold on to the truths we have learned. We must be watchful for false teachings. Everything we learn about our faith needs to line up with the Word of God! Let's continue to vigilant in our faith and not become lazy.

Christ is our All!