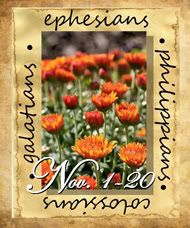 Don't forget to visit my dear friend Jenilee and her thoughts on
Galatians 3
!
Galatians 3
Chapter overview (directly from Tyndale N.T. Commentaries)...
1. Introduction (vs. 1-6)
2. Abraham's Faith (vs 7-9)
3. Who is under the curse? (vs. 10-14)
4. Does the law annul promise? (vs. 15-18)
5. What is the purpose of the law? (vs. 19-29)
Whew...hang on folks, fasten your seat belts it about to get very deep here in Galatians 3! I am almost at a loss as to where to start. Yikes, this is some deep, deep, can I say it again deep theology going on in these 29 little verses. I could probably write a book about it this; but, there are some smart people who already have. So, I will sum up for our purposes; so I can get to the part that really grabbed a hold of me tonight.
Basically, Paul starts this chapter as if he were a parent scolding a child. It is time to put these Galatians in time out and have them write sentences....I am saved by grace not by works....100x's! They have allowed themselves to be led astray and Paul is correcting their path. Sometimes, we need that in our own lives....sometimes we need to be put in time out, get a lecture and write sentences until we get it in our hearts.
The Galatians then go to school. Paul begins to teach them salvation theology 101. We get a history lesson through Abraham and we learn about how God had this all planned out. We are reminded that we are all under the curse. Remember, there is none righteous...no not one (Romans 3:10)! Christ paid our debt by dying on the cross and taking our sin. He then conquered death through His resurrection.
Verses 15- 18 got a little confusing for me; but I will try to sum it up in one sentence...
Basically, Jesus is the fulfillment of the promise....the law's purpose reveals our need for Him.
Okay, this is getting a little long so....
What God Wants To Show Me Today!
Tonight, I went to an "Adoption Shower". A family in our church adopted a girl (12) and a boy (14) from China. We had such a good time. They were so fun to watch as they hugged everyone before they even opened their presents. They have been here in the USA for about two months. Their world has been dramatically changed. Two months ago they lived in a Chinese orphanage and today they have a family and church family who adore them here in the U.S.
When they got their children over there all kids had were literally the clothes on them. Mom and Dad had to bring them all new clothes or buy them there in China. Two months ago they belonged to China and had nothing...two months ago they then became the children of the Moore's forever and were given a future.
This really helped me understand verses 23 - 29. I was once like these kids who were adopted. I lived in the world, my orphanage, and my guardian was the law. My guarding showed me that there was a better way to live but as hard as I tried to obey all the rules I could never leave on my own. Then Jesus came and provided away for me to leave. When I had faith in Him, I was adopted by Him forever. I got new clothes, I have a hope and a future. I now journey with Him to our new home which will someday be in heaven. I am now a part of the promise that was given to Abraham...
I am one of the stars!
(ok crying now)