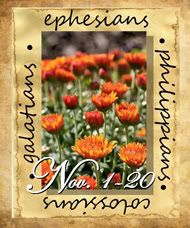 Don't forget to visit my dear friend Jenilee and her thoughts on
Colossians 3
!

Colossians 3
Chapter Breakdown
The Colossians exhorted to be heavenly-minded; (1-4)
to mortify all corrupt affections; (5-11)
to live in mutual love, forbearance, and forgiveness; (12-17)
and to practise the duties of wives and husbands, children, parents, and servants. (18-25)
There are some really practical things throughout this chapter that really help us live a life that follows Jesus. I love verses 1 and 2 tell us to set our hearts and minds on things above. We need to keep ourselves pointed in the right direction...remember life is like a marathon. Verse 3 says we are hidden with Christ in God. I blogged about being Under His Feathers it really helped me understand how God protects us not only from harm but by His cleansing blood I am protected from eternal death.

I love the practical list of things to get rid of....
sexual immorality, impurity, lust, evil desires, greedy, idolater, anger, rage malicious behavior, slander, dirty language & lying.
Well...I am sure we can find a couple things on this list that we need to get out of our lives if not all of them.
What God Wants To Show Me Today
But I love, love, love the next portion of scripture. You know me Mrs. Visual....I love the image of "You must Clothe yourselves...." I think of getting dressed for Michigan snow! You need a hat, scarf, earmuffs, mittens, warm socks, snow pants, warm coat and boots to brave the cold. I love how you are completely covered and wrapped up in your nice warm snow outfit just like how we need to clothe ourselves spiritually.
So what do we need to clothe ourselves in as Christ followers??
Tenderhearted mercy, kindness, humility, gentleness, patience, make allowance for each others faults, forgiveness, peace, thankfulness and above all LOVE!
When we put on God's clothes we will truly be able to be a beautiful example of a Christ follower. We will be a light in our relationships, our homes, our work place, our schools, our church, our community. As we daily get ready and put on our physical clothes lets be mindful of the spiritual clothes we need to put on that will glorify Christ.

Verse 17
And whatever you do or say, do it as a representative of the Lord Jesus, giving thanks through him to God the Father.