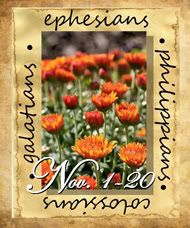 Don't forget to visit my dear friend Jenilee and her thoughts on Galatians 6!

Galatians 6

Chapter Breakdown (Matthew Henry's Commentary)

1, Exhortations to meekness, gentleness and humility (1-5)
2. To kindness towards all men, especially believers (6-11)
3. The Galatians guarded against the judaizing teachers (12-15)
4. A solemn blessing (16-18)

It is hard to believe that we are coming to the end of our first book of this study, it went very fast. There has been so much that I have learned, so much that God has shown me in these six little chapters.

I love how Paul ends his letter to the Galatians. He has been rather rough on them and don't get me wrong...they deserved it. However, in this last portion we see Paul reminding them, loving them and encourage them to their first love....the real Jesus.


When a believer sins...gently, humbly help them back to Jesus

Work hard and you won't need to compare yourself to anyone.

If you live by the Spirit you will harvest everlasting life.

Care for others, do good to everyone.

He reminds them of their freedom in Christ, they are justified by faith not by works.

The only thing that counts is if we have been transformed into a new creation.

What God Wants to Show Me Today!

The Galatians were trying to do something to please God. They had allowed false teaching to cloud their judgment and understanding of true faith. The purpose of the Christ work on the cross was to free us from the curse of sin which is revealed by the law. There is nothing that we can do to earn our salvation it is only through faith. But, lets us not forget that true faith produces fruit.

In this "Race of Life" the Galatians (and us) are reminded of some very practical steps to help them keep their eyes on the real Jesus ....

Things To Run From:
1. Falling Into Sin.
2. Thinking You Are Too Important
3. Being Misled By A False Jesus

Things That Will Help Us Run This Race:
1. Helping Struggling Believers
2. Working Hard
3. Never Giving UP
4. Doing Good to Others
5. Boasting Only In Christ
6. Being Transformed Into A New Creation.

In our world today, there are many false teachings. We can very quickly find ourselves in the same spot as the Galatians if we are not careful. We need to be cautious and vigilant that we are not entertaining a false Jesus. I have been reminded through this whole book that I must pick up my cross and follow hard after my first love. I have been justified by faith. I have been transformed into a new creation. I will reap a harvest if I do not give up. I must never let these things become jeopardized by sin and a fake Jesus.

Please, watch and listen to this video. I think it is very timely to our world today. She reminds me of Paul speaking to the Galatians; but she is speaking to our culture, our world.



May we only boast in .... The Son of the Living God, Our Redeemer, Our Savior, The King of Kings and the Lord of Lords, The Beginning and the End, The Bright and Morning Star, The Most High Reigning in Majesty Sitting at the Right Hand of God our Father, Our Intercessor, Our Healer, Our Deliver, The Conqueror of Death, Hell and the Grave, Our Victorious One ....The REAL JESUS CHRIST.