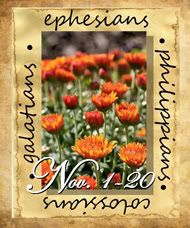 Don't forget to visit my dear friend Jenilee and her thoughts on
Philippians 1
!


Philippians 2
Chapter Breakdown(Matthew Henry's Commentary)
1. Exhortations to a kind, humble spirit and behavior. (1-4)
2. The example of Christ. (5-11)
3. Diligence in the affairs of salvation, and to be examples to the world. (12-18)
4. The apostle's purpose of visiting Philippi. (19-30)
I think Philippians may become my blogs official book of the Bible that supports my theme of JOY. Joy is one of the main themes of Philippians. More specifically Joy in ministry & Joy in adversity. Since my life is all about ministry, Paul's letter to Philippi is a great guideline for my life. It is great for everyone since we are all called to spread the Good News!
Throughout my life I have tried to find women to pattern my life after. I look for certain qualities and some of them are: an encourager, loving, friendly, tender, compassionate, promote unity, works together with others, selfless, humble, interested in others, same attitude as Christ. (vs. 1-5) I have found a handful of women who really live out these characteristics. They are the most beautiful women I have ever come across. They are beautiful because their character radiates Jesus.
I want to shine brightly like these women and I am so thankful God has placed them into my life. I must work hard to show the results of my salvation (vs. 12b) I love verses 13 - 15.
13 For God is working in you, giving you the desire and the power to do what pleases him. 14 Do everything without complaining and arguing, 15 so that no one can criticize you. Live clean, innocent lives as children of God, shining like bright lights in a world full of crooked and perverse people.
I want to shine as brightly as I can! It is a
Joy
to serve my King!