When my hubby first started being interested in me, he had an interesting way of flirting. I am not sure if it worked and my dad did not think to highly of it. Yet, here I am married to him for 14 years.
My dearest decided to decorate my family's home with white streamers of love......


Nothing like getting up early on a bright Sunday morning, cleaning up wet toilet paper and then have to get ready to go to church.
Have I ever mentioned how much I love sleeping in (I was 16... come on)....not this day. Dad woke me up and since this guy was my friend...it was my mess! : (
The funny thing is...this is the 2nd time he had T.Ped our house. LOL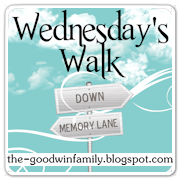 Jenilee at
The Goodwin Family
is hosting Wednesday's Walk.