I was downstate a few weeks ago and my hubby and I went to a restaurant that I went to as a kid.
I lo
ved this restaurant. I loved the player piano in the hall. I loved the little store fronts in the lobby. I loved that one of the store fronts was a little shop where you could buy rock candy on sticks. The food was always good like their Marty salad, French onion soup and home cooked meals. On birthdays there is this big huge bear that would sit next to the birthday pers
on. A little choo choo train would circle around the room on a track up near the ceiling while you ate. And to top off your ice cream would be a little colorful plastic animal to take home. I was always so excited when I heard we would be going there.
I was excited
a few weeks ago to go. I would have to say I was very nostalgic while I was there, remembering all my families birthdays, holidays and anniversaries celebrated in that building. I ran my fingers across the plastic covered keys of the player piano that I use to pretend to play when I was little. I even found rock candy in the little store....so tempted to buy one. The bear and train where still in their same spots. It was like stepping back in time nothing has change
d at all not the decor or the food. All of these things have attached to them good memories but now a little sad because some of those memories are with people that are in heaven now. But I still left that place with warm feelings of my family and the time we spent there.
Is there a place that you remembering going to that helped you......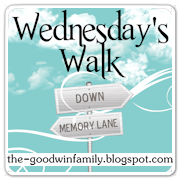 Jenilee at
The Goodwin Family
is hosting Wednesday's Walk.