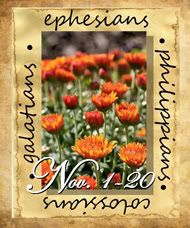 Don't forget to visit my dear friend Jenilee and her thoughts on
Galatians 4
!


Galatians 4

Here is the chapter breakdown (Tyndale Commentaries)
1. The difference between son and infant (1-11)
2. A personal appeal for better relations (12-20)
3. An argument from rabbinic's (21-5:1)
Chapter four is once again full of wonderful things to learn. We see the idea of adoption again in the first third of the passage. I love that part.
The next two thirds Paul voices his concern for the Christians of Galatia. Verse 11 Paul says, "I fear for you, that somehow I have wasted my efforts on you." Verse 20 says, " I am perplexed about you." Can we say, "Ouch?!"
Verses 12-20 show the human condition. They loved Paul when he first came the heard the "Good News" and loved Paul greatly. Then while he was gone they lost that zeal for God's truth. It is just like us, if we are not vigilant in our faith it will start to decay...possibly even collapse.
This chapter is wrapped up with a comparison of Hagar and Sarah. Those who are under the law are like Hagar's descendants, in bondage. Sarah's descendants who are under grace....are free.

What God Wants To Show Me Today!
I can not escape this idea of adoption. It is such a wonderful idea for us as Christians. I really love what God showed me yesterday in chapter 3. I think chapter 4 takes this idea even deeper today. In Tyndale's Commentary it pointed out something in verse 6 that took it to a whole new level for me. This idea of how we are adopted and the Spirit makes us true-born children. We see all three parts of the trinity working in our salvation...too cool!

Galatians 4:6-7 (New Living Translation)
5 to redeem those under the law, that we might receive adoption to

sonship

. 6 And because we are his children, God has sent the Spirit of his Son into our hearts, prompting us to call out, "Abba, Father." 7 Now you are no longer a slave but God's own child. And since you are his child, God has made you his heir.

The commentary focuses on the word Spirit in reference to the Holy Spirit. Read this carefully...
"For it is by the Spirit in our hearts that we are assured of our sonship of God...
Romans 8:16 (New Living Translation) 16 For his Spirit joins with our spirit to affirm that we are God's children. and are so enabled to pray with confidence. "
The commentary goes on to say, " It is not strange, therefore, that the Spirit is here described as the Spirit of the Son. This is no confusion of the two persons of the Trinity, but simply a recognition of the close link between the two which exists in Scripture. It is by the Spirit that Christ lives in our hearts.
Ephesians 3:16-17 (New Living Translation)16 I pray that from his glorious, unlimited resources he will empower you with inner strength through his Spirit. 17 Then Christ will make his home in your hearts as you trust in him. Your roots will grow down into God's love and keep you strong.

I love the idea of the Trinity here working out our salvation. We see God as Father, Christ as redeemer and the Spirit as the power all working out our adoption papers. My mom has a quote she loves, "God loves us the way we are, but too much to leave us that way." When we are adopted, we are not left the same; but we are transformed by the Spirit as true-born children.
What an amazing process...the day of our adoption!