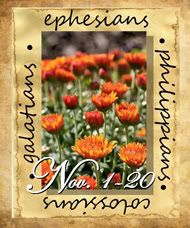 Don't forget to visit my dear friend Jenilee and her thoughts on
Colossians 4
!
Colossians 4
Chapter Breakdown
Masters to do their duty towards servants. (1)
Persons of all ranks to persevere in prayer, and Christian prudence. (2-6)
The apostle refers to others for an account of his affairs. (7-9)
Sends greetings; and concludes with a blessing. (10-18)
What God Wants To Show Me Today
The letters we have study over the last 20 days have been simply amazing. Paul's heart has been so clearly defined in all of them. We are saved by grace through faith in the Lord Jesus Christ. We are to be watchful of false teachings that creep into the body of believers. We are to continue to grow in Joy of Christ and become more like Him. It is God's deepest desire that we would be reconciled unto Him.
I love Paul's last challenges in Colossians 4....
2 Devote yourselves to prayer with an alert mind and a thankful heart.
5 Live wisely among those who are not believers, and make the most of every opportunity
6 Let your conversation be gracious and attractive so that you will have the right response for everyone.
If we can do these three things be devoted in prayer, live wisely, be gracious conversation and practice them then surely we will be true Christ followers.
Today is the last day of our Galatians, Ephesians, Philippians & Colossians GEPC study (tear) and I have enjoyed every minute it of it. It has been hard to write about it each chapter everyday...very time consuming...but priceless in so many ways. Thanks Jenilee for allowing me partner with you on this journey through Paul's epistles. Thanks to all of you who have blogged with us and made it that more enjoyable.

Find people in your life that encourage your walk with Christ and remember this verse....

Proverbs 27:17 (New Living Translation)
As iron sharpens iron, so a friend sharpens a friend.


Paul's Letter from Crossroads Community Church on Vimeo.
If this video does not work here...please, please, please go check it out
here
it is a nice way to end our GEPC series.
Grace be with you!


Shout out to my freind Peter Flaherty for the beautiful Paul picture. Thanks!!!!