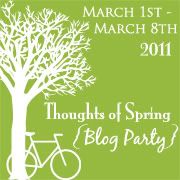 I am joining a blog party at Dancing Barefoot. Go check it out
here
.
Here are some questions they wanted me to answer to get the party started.
How would people describe your personality? (If they could only use ONE word.) Are they right?
Sweet...I hope!
What celebrity/celebrities would create a "Star-Struck" feeling if you saw them in real life?
Harrison Ford
Who is your favorite blogger? Why?
Jenilee because she is dear, wonderful friend.
What is your comfort food/drink?
Diet Coke or Chocolate (any kind, in any form any time of the day)
Be brave – tell us something very random and weird about yourself.
I hate washing my face...I don't do it when I go to bed; just when I take a shower in the morning. Good thing I don't wear a lot of makeup...gross!
Do you have a strong desire to do something you've never done? What is it?
Go to Paris
Movies: Action, Drama, Romantic Comedy, Documentary, Comedy? What are your favorite genres?
All of the above...you name it and it is good ...I like it! Oh and it has to be G, PG or maybe PG 13 that is pushing it though.
Books: Fiction, Non-Fiction, Romance, Biographies, True Stories, Self-Help, Devotional/Study? What are your favorite types of reading material?
I love fiction. I love Jane
Austen
,
. I love my Bible the most.
Music: Funk, Rock, Country, Jazz, Classical, Film Score, Blues, Classic Rock, Crooner, Alternative, Heavy Metal, Techno? What are your favorite types?
Worship and a guilty pleasure Michael Buble
If you inherited a million dollars, what is the first thing you would do with your money?
Tithe, Give, Save and then Spend. ; )
Name one weakness of yours (confession is good for the soul).
I am a food addict.
If you could live anywhere at all (and take all your loved ones with you), where would you go?
Anywhere warmer!
Strange Talent? Can you juggle basketballs, put your legs behind your head or perform some other strange feat?
Wiggle my ears!
What's something you consider yourself to be good at? (Don't worry, it's not bragging, it's acknowledging a God given gift).
Painting & Drawing
What is one of your favorite things to catch a whiff of?
Freshly baked cookies
When you leave a social gathering, do you wish: You would have talked more or You would have talked less?
Both?!
If money wasn't a factor, what stores would you shop in?
Any stores in general because I don't do much shopping now!! IKEA would be one on that list!!!
What is your greatest fear or strange phobia?
GERMS, GERMS and more GERMS!
What is your greatest accomplishment?
Becoming a Wife, Mom & Minister
What are your favorite animals?
Dogs
Are you a hopeless romantic?
Yes
What movie or book character can you most relate to?

Elizabeth, Pride and Prejudice

GET JOY